I don't like destroying works of art.In the US, confederate statues are being torn down. To destroy them is, in my mind, pointless; the statues should go to a museum. Taking them down from public places is a good move, but not destroying them. There are statues in museums all over the world that have lost their significance through time but have simply  become examples of an artist's work. The Dying Gaul, for example, was commemorated for a victory of the Romans against a people they had invaded and were wiping out. The statue is a masterpiece of art, but more than that – it represents a whole civilization that was vanquished. But now, in this day and age – no one cares. No one looks at the statue and thinks "Horrible Romans – they killed this man, and they invaded his lands, and they wiped out a whole civilization."  But if they like the statue, maybe they'll ask questions about it, and learn something. Maybe they'll think it is a shame – and will reflect on how, in their present, things are happening that reflect history. And maybe it will change someone, deep inside.
Here, for example, are busts of Caligula – the most depraved Roman Emperor. If the Romans had destroyed them after his short but brutal reign, we might have doubted his depravity.  When he was assassinated, these busts could have been destroyed – but they weren't. And now time has stripped them of any meaning except, perhaps, as a reminder.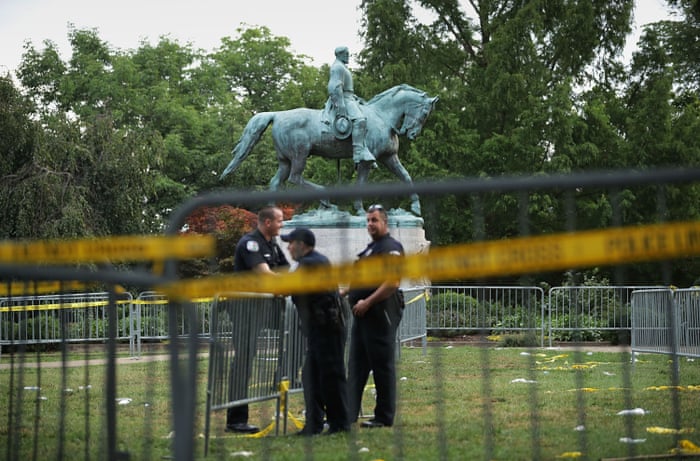 How tragic it would be to lose this artist's rendition of General Lee – and especially of  "Traveller", General Lee's famous horse. Centuries from now, when the Civil War has become a chapter in ancient history books, the art will still be there.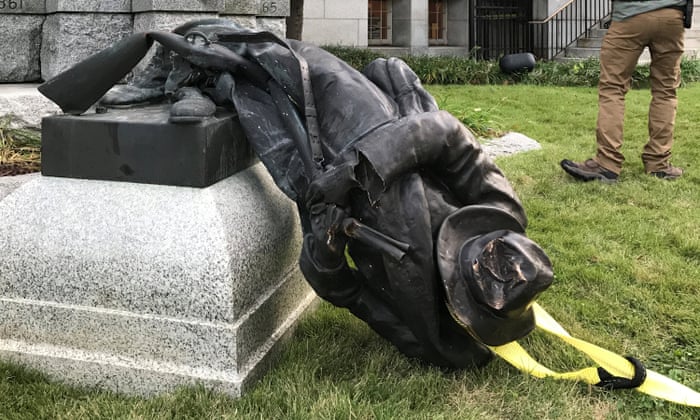 Destroying an image does not change hearts or minds – it may make some people feel better now, but in two or three centuries, will it really matter if this statue had been crushed or simply moved to a museum?
There are symbols that have been defaced and torn down – the Swastika, or Lenin's statue in Russia – and more recently, Saddam Hussein's statue in Iraq. But what did breaking this accomplish? A statue isn't a wall . When the Berlin wall was torn down, that was a true change and changed many  lives for the better. Walls are being built right now between Mexico and the US, and walls are imprisoning Palestinians. Instead of art, we should be tearing down walls. A statue isn't a flag. A flag is a rallying point – and I have no problem with flags being burned or torn apart. But a statue is not a rallying point.  Art should be removed from public places because there, they do stand for something, whereas in a museum,  they are only relics – they have been reduced to an artist's work.
In history, it's often religious objects that are destroyed – in the 16th-century, iconoclasm in the Protestant Reformation attacked and defaced statues of saints. That continued after the Revolution in France. Some of what is  happening now is almost facial: one statue is being taken down and returned to the Sons of Liberty, who had put it up. But during the American Revolution, the Sons of Liberty pulled down and destroyed the gilded lead statue of George III of the United Kingdom on Bowling Green (New York City), melting it down to be recast as ammunition!
So maybe this post should have been called Iconoclasm.