Let's make a deal. I'll donate 5 copies of my book, The Road to Alexander, to people who will review it and spread the review: tweets, blogs, Amazon, friends … everywhere! If that sounds like a good deal, let me know and I'll send you a review copy.
After winning a prestigious award, Ashley is chosen to travel through time and interview a historical figure. Choosing her childhood hero Alexander the Great, she is sent back in time for less than a day. He mistakes her for Persephone, goddess of the dead, and kidnaps her, stranding her in his own time. What follows, after she awakes under the pomegranate tree, is a hilarious, mind-bending tale of a modern woman immersed in the ancient throes of sex, love, quite a bit of vino, war, death and ever so much more. 
---
The same deal goes for Time Tracker, by Samantha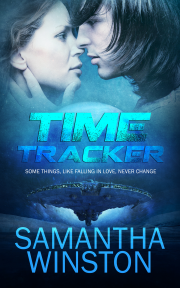 Winston. You must be 18 or over to read it. 
Frozen then awakened after a thousand years, Kell is unprepared for modern life. Allie is only supposed to help him adjust. But some things, like falling in love, never change.
Kell is brought back to life by scientists after falling into a glacier ten centuries ago. But can a man from the Iron Age adapt to modern times? Hired as a linguist, a specialist in ancient languages, Allie believes her job is only to communicate with him. But some things never change. The attraction between them is sudden and strong. Then Allie discovers what the Army really wants to do with Kell, and suddenly time is running out. In the middle of the Arctic Circle, surrounded by hundreds of miles of snow and ice, it's now up to Kell to use his skills of survival to save them both, and to acknowledge the love growing between them.
Tracker and bounty hunter Bruce Steele is hired to find Kell and Allie. He's never failed. But this time fate plays a vicious trick on him, and, after an accident, he awakens in the far future on a space station with two slight problems—a raging hard-on and an android with nuclear sex appeal. But there are far bigger problems—there's no need for a tracker on a space station, and the android he's come to love is slated for demolition. But no problem is too big for Steele. Determined to carve a place for himself in the ultra-technical world of the future, he's decided to save his adorable, pedantic android…and find a place for both of them in a world he doesn't understand.